Child of Eden
Quelle: Pressemitteilung Ubisoft
Tetsuya Mizuguchi mysteriöse Synästhesie-Ankündigung (wir berichteten) hat doch nichts mit PEZ-Süßwaren zu tun. Das neue Baby des
Rez -Schöpfers
heißt Child of Eden (
Trailer
) und ist ein Shooter, der die ganze Bandbreite der Sinne ansprechen und den Spieler in eine kaleidoskopische Matrix aus Musik und Bildern hineinziehen soll. Erscheinen wird der für PS3 und 360 in Entwicklung befindliche Titel Anfang 2011, wobei die Xbox-Fassung kompatibel zu
Kinect
sein soll, um jegliche physische Barriere zwischen Spieler und Spielwelt aufzuheben. Ob auch
PlayStation Move
unterstützt wird, wurde nicht verraten - vielleicht weil die Pressekonferenz der Japaner erst heute über die Bühne geht. Ein paar Bilder zum Spiel gibt es in der
Galerie
.
Wer einen intensiveren Blick auf den
Trailer
wirft, wird Unmengen an Effekten entdecken, die aus der Demoszene stammen. Wahre Demo-Kenner erfreuen sich weiterhin an den zahlreichen Anspielungen auf bekannte Szenedemos. Vor
Aether
von MFX salutiert Mizuguchi, genauso wie vor
Submerged
,
fr-019: poem to a horse
, Moppis
Flower Demo
und Dutzenden von Werken, die mit Würfeleffekten spielen (Hallo, Rebels!).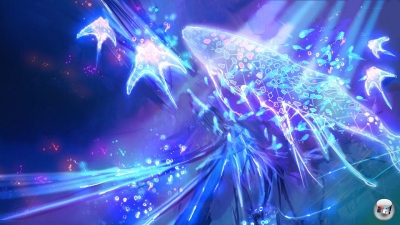 Demo-Style pur in Child of Eden (Trailer, Screenshots, Website).