Art of Balance Wallpaper
Jett Rocket heißt das aktuelle Spiel von
Shin'en
, einem in München ansässigen Entwicklerteam von Spiele für Nintendo-Konsolen. Mit einem
hervorragenden Ergebnis
hat der WiiWare-Titel bei unseren Kollegen von 4Players.de kürzlich im Test abgeschnitten. Zuvor haben sich die Jungs, die vor allem früher unter dem Namen Abyss großartige Amiga- und PC-Demos kreiert haben, schon mit Spielen wie Nanostray 2 (NDS) oder Die Biene Maja und Iridion 3D (GBA) einen Namen gemacht.
Dass sie ihre Szenewurzeln nicht vergessen haben, konnte man immer wieder in ihrem Werken entdecken. Ob stylische Menügestaltung, fetzige Effekte im Hintergrund oder ganz einfach hochwertige Technik, überall in ihren Spielen kann man die Demoszene geradezu riechen. Von ihrem Geschicklichkeitsspiel
Art of Balance
, das ebenfalls über WiiWare zu beziehen ist, finden sich auf der offiziellen Website ein paar besonders hübsche, das sehr stylisch gestaltete Wallpaper. Wer also seinen Desktop ein wenig Coolness spendieren möchte, sollte vorbeischauen.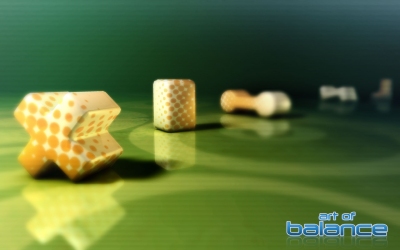 Coole Optik für den Desktop bieten die Wallpaper zu
Art of Balance.