Zine #14: Schmökerzeit!
Tadaaa!
Zine #14
ist da! Endlich! Eine wahre Odyssee hat die 14. Ausgabe des beliebten Diskmags hinter sich. Nach vielen Verschiebungen, Irrungen und Wirrungen wurde das digitale Magazin endlich letzte Nacht in einer feierlichen Zeremonie auf der Evoke 2010 Demo-Party in Köln veröffentlicht. Neben bereits aus Zine #13 bekannten Features, fördert ein näherer Blick in das satte 135MB umfassende Gesamtpaket aber auch zahlreiche Neuerungen zu Tage.
Wenig verwunderlich ist die Tatsache, dass auch in Zine Numero 14 das Layout, vor allem bei den Artikeln, wieder sehr edel und modern gestaltet wurde. Auch musikalisch wird mit den fünf Tracks von BitArts, C-Jeff, Willbe, Hansee, Mikael Fyrek und Scott wieder richtig gute, entspannende Kost geliefert, die beim Lesen der Artikel nicht zu aufdringlich wirkt. Die Gliederung in fünf Hauptthemen Features, Backstage, Report, Technical und Editorial kennt ebenfalls bereits aus der vorherigen Ausgabe. Neu hingegen ist die neue Engine, die im Herzen von Zine #14 werkelt. Die ist höllisch schnell, verzichtet auf unnötigen Effektballast und schnurrt auch auf langsameren Rechnern, wie etwa Netbooks, angenehm soft dahin. Mac- und Linux-User dürfen sich ab sofort ebenfalls in die gute Schmökerstube schwingen, denn neben Windows, werden auch ihre Betriebssysteme unterstützt.
Letztendlich ist es aber der Inhalt an geschriebenen Wörtern, der in einem Diskmag die Spreu vom Weizen trennt. Und hier steht Zine definitiv über allen anderen. Profi-Journalismus von der ersten bis zur letzten Zeile durchzieht den digitalen Blätterwald. Einige der interessantesten Berichte rund um die Welt der Demoszene in Zine #14 sind:
* Demos for an Art Audience: Zine talks to Smash and EvilPaul
* A conversation with Kevin Mack: The Academy Award Winnter talks to Zine
* Happiness is around the bend: Navis speaks about what was different
* Demo Effects in Games
* Background Report: Perpetuum Online (MMORPG)
* How Linger in Shadows came to be (PS3-Demo)
* An Obituary for Breakpoint: Preacher's Retrospective on BP over the years
* The Hungarian Demoscene History
* Hacking the Sega Master System
* uvm.
Schade ist jedoch, dass es einige der in der
Zine #14 Headlines-Intro
angekündigten Berichte, etwa das Interview mit Keops über Stargazer, nicht in die finale Fassung geschafft haben.
Zine #14 ist sowohl in ausführbarer, audiovisuell unterhaltender Form als
startbare Datei
für Windows, Mac und Linux, als auch in einer
Online-Edition
erhältlich. In letzterer ist das Layout weniger modern und stylisch, auch wird auf Musik verzichtet. Bei den Artikeln und Reportagen sind sich beide Versionen jedoch gleich.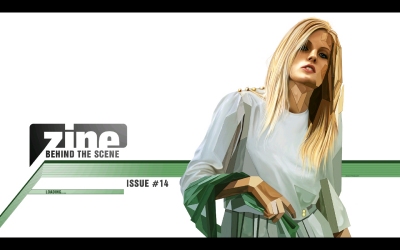 Zine #14 - Lesestoff vom Feinsten für alle Demo-Freaks.