Mudia Art Podcast #2
Inzwischen ist die
zweite Ausgabe des Mudia Art Podcasts
als Download erhältlich. Zwei Stunden Musik aus der Demoszene enthält dieser, wobei die erste Hälfte mit Tracks von Jogeir Liljedahl, Chromag, Romeo Knight und vielen weiteren bekannten Szenemusikern aufwartet. Part 2 widmet sich hingegen der Musik, die auf der Evoke 2010 veröffentlicht wurde. Auch hier sind einige wirklich feine Stücke mit an Bord. Die vollständige Track-Liste findet ihr unten.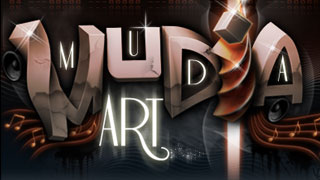 Mudia Art Podcast #2 Track-Liste:
Part1. "Music from the demoscene"
01 Like a Childbirth by Virgill & Cons
02 Promised Land by Man with No Alias
03 Starchild by Chromag
04 Dere er alle
05 Arabian Millenia by Jogeir
06 Wake up Sleeper by Cons feat. Ellina
07 Scaremongers Guild by Aikapallo
08 1989 by Romeo Knight
09 29 and still a virgin by JCO
10 Extreme Scene by XXX
11 Teh fag vendetta 2009
12 No Hope by Ciccileju
13 Next Level
14 Wind under my wings (Instrumental) by Amusic
15 Trance my pants by Gopher
16 Spaced out by Teel
Part 2. "Partymix EVOKE 2010"
01 Evoke by xxx
02 Ultima Rhule by Mystra
03 P. Patt3rns by Teis
04 Soldier Field by Xerxes
05 Encrypted by Cosmiq
06 Mageau by Romeo Knight
07 Lost Paradise by Bit Arts
08 Drifting by Jeenio
09 Jojo by Schreisalz
10 Ethereal Voices by Saga Musix
11 Squeezebox by Hansee
12 Party Hard @ Evoke by Ultrasyd
13 4 Wände by Konsumer
14 Devil in disguise by keith303
15 Run & Hide (compo version) by dipswitch
16 When It Rains, It Pours by wayfinder
17 Abell 2029 by glxblt
18 State Of Flux by Drumhead
19 Bonus Stage by Byproduct