FantomenK - The Massacre
"Eine unwiderstehliche Kraft lebt in FantomenKs Melodien und Rhythmen. Energie und Frische sind die Schlüsselwörter für die Arbeit des schwedischen Soundkünstlers. Ohne Pause wird man seine Tracks nacheinander anhören, wobei es schlichtweg unmöglich ist, dabei seinen Kopf und die Füße still zu halten. Leute, glaubt uns ruhig! Es ist Zeit zu feiern!"
Was sich liest wie die schwülstigen Ergüsse eines Möchtegern-Poeten, ist schlicht und ergreifend der offizielle Pressetext zur kostenlosen EP
The Massacre
von Micromusic-Soundmagier FantomenK. Doch was sollen wir sagen? Der Verfasser der obigen Zeilen hat zu 100% recht! Feinste Chiptune-Klänge bekommen wir zu hören, die sich mit rasanten Tempo, coolen androiden Sprachsamples und ohrwurmverdächtigen Melodien so intensiv in unseren Gehörgang brennen, dass man seinen MP3-Player nur ungern wieder aus der Hand legen möchte. Wer auch nur ein klein wenig Faszination für Chipmusik verspürt, wird hier völlig aus den Socken gewuchtet. The Massacre gehört definitiv zu den besten Alben der Micromusic-Szene in diesem Jahr. Schönen Dank an das Netlabel Coucou, dass ihr diese Perle in euer Download-Angebot aufgenommen habt!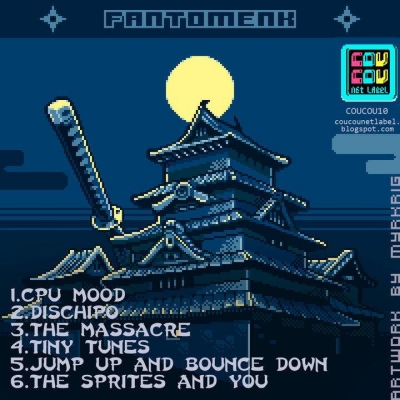 The Massacre - treibende Chiptune-Melodien par excellence!