Vorschau: Child of Eden
Nicht erst seit unserem großen
Special
wissen wir, dass es Spiele gibt, die den Geist der Demoszene atmen. Nun geht demnächst ein neuer Kandidat an den Start, der so unglaublich abgefahren, so wild, so ästhetisch, aber auch abstrakt wirkt. Ein wahrer Rausch für die Sinne. In Kurzform:
Child of Eden
. Unser Kollege und Demo-Liebhaber Paul "famou$" Kautz hat sich das neue Spiel von Tetsuya Mizuguchi angeschaut und freut sich schon tierisch auf das Spektakel, das so viel Demo-Style enthält wie bislang kaum ein anderer Titel.
"Ich bin nicht der weltgrößte Rez-Fan. Ich kann mit J-Pop überhaupt nichts anfangen. Und minimalistische Polygongrafik à la Space Invaders: Infinite Gene finde ich trotz meiner Retro- und Demo-Verwurzelung im Normalfall eher rotzhässlich denn stylisch. Trotzdem hat mich Child of Eden eiskalt erwischt, gepackt und verzaubert: Mit dem Pad in der Wand begibt man sich nach kurzer Verwirrungsphase tatsächlich irgendwie in eine ganz andere Dimension, in der Farben, Formen und Klänge zu einem organischen Ganzen verwachsen. Klingt surreal, ist es irgendwie auch, aber eine wirklich beeindruckende, hypnotische Erfahrung, auf die ich mich schon tierisch freue!"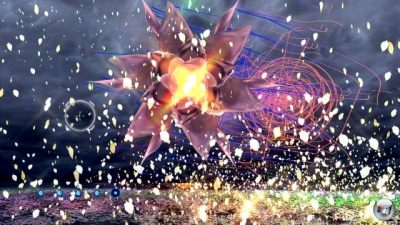 So kennt man das von Tetsuya Mizuguchi: Auch Child of Eden ist ein
farbgewaltiger Sinnesrausch, der einen mit wunderbar abstrakten
Fomen und einem hypnotischen Soundtrack mitten ins Spiel saugt.