Giana's Return V1.0
Das spaßige Jump'n Run
Giana's Return
, Sieger des Games-Wettbewerb der Buenzli 2009, liegt nun in einer leicht optimierten Version 1.0 vor. Wir haben das bestehende Archiv mit der neuen Version überschrieben.
Folgende Änderungen gibt es gegenüber der Vorversion zu vermelden:
- Several palette fixes for all tilesets
- Various other smaller cosmetic graphics fixes
- Four new ingame baddies
- The levels are now 40 pixels higher and "fullscreen" on 320x240 devices
- Modified trainer (hidden)
- Modified two levels in the last world to make them easier
- Fixed minor slipping bug when a bridge is crumbling and Giana stands stil
- Added configuration menu:
* Music volume control
* SFX volume control
* Key configuration (where keyboard available)
* Joypad/Joystick configuration (where external joypad/joystick available)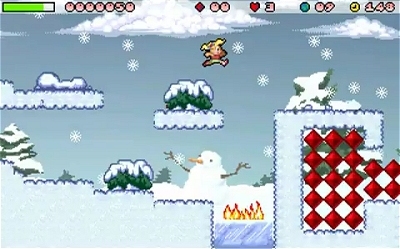 Noch ein bisschen besser als vorher: Giana's Return in der Version 1.0.