ytcracker - Rap meets Games
ytcracker
ist Rapper und ehemaliger Cracker. Die Internetauftritte von Nasa, Honda, Nissan und vielen anderen Unternehmen und Behörden hat er schon "defaced", also unberechtigt verändert. Doch wollen wir unser Augenmerk nicht auf seine illegalen Aktivitäten legen, sondern viel mehr auf seine Musik und seinen Rap-Gesang. Und es mag schon viel heißen, wenn wir uns der Musikrichtung des Sprechgesangs widmen, da es sich hier eigentlich um ein Genre handelt, in welches wir nur schwer hinein finden. Die Besonderheit an ytcrackers Songs ist, dass er sich bekannte Spielesoundttracks vornimmt. Diese unterlegt er mit Rap-Beats, driftet bei den Melodien auch mal in Chiptune-Dimensionen ab und packt exquisiten Sprechgesang darüber. Vom Stil her erinnert er dabei ein wenig an Eminem, wobei seine Tracks aufgrund der aus den Spielen bekannten Hintergrundmusik ein ganz besonderes Flair umweht. Von Nerd Rap und Nerdcore Hip Hop spricht man hier.
Mit dem Album
Nerdrap Entertainment System
hat er dabei sein unbestrittenes Meisterwerk vorgelegt. Zu NES-Sounds rappt er, was das Zeug hält, darunter zur Musik aus The Legend of Zelda oder Goldrunner. Das ist wirklich extrem "nerdy" und es vewundert nicht, dass der Opener des kostenlosen Albums den Titel "Meganerd" trägt.
Auf seiner
Webseite
bietet ytcracker noch weitere kostenlose Alben an, darunter ist mit
Chrono Nurga Vol. 1
auch ein Rap-Soundtrack, der sich der Musik aus dem Meisterwerk Chrono Trigger annimmt. Komplett selbstgeschriebene Songs, die nichts mit Spielen u tun haben, finden sich ebenfalls in seiner Discographie wieder.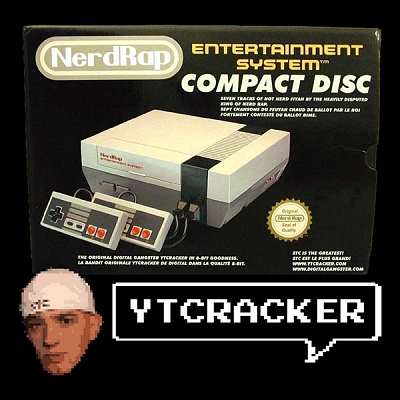 Nerdrap Entertainment System: Nerdcore Hip Hop vom
Feinsten mit Musik aus Zelda, Goldrunner und anderen Spielen.