Isle of Tune
Spiele mit Szeneflair, Games, die den Demostyle atmen. Man findet sie vor allem in der Szene der Independent Games. Mit
Isle of Tune
möchten wir unsere Festtage der Spiele beginnen.
Was ist dieses
Isle of Tune
, das auf den ersten Blick mit seinem reduzierten Pixel-Look eher an ein C64-Game, als an einen modernen Vertreter des Jahrgangs 2010/2011 erinnert? Es ist ein ungewöhnliches Musikexperiment. Eine Mischung aus minimalistischer Aufbausimulation und spielerischer Art Musik zu machen. Man baut Häuser und Straßen, platziert Laternen, Bäume und Büsche darum herum und weist allen Objekten Töne aus einem vordefinierten Klangpool zu. Jetzt schnell noch das ein oder andere Auto auf die Fahrbahn setzen, und ab geht die musikalische Fahrt ins Blaue. Fährt nun ein Fahrzeug an einem Objekt vorbei, wird der zuvor ausgewählt Ton abgespielt. So baut man in Windeseile komplexe Klangteppiche zusammen, die mit ein bisschen Übung großartige Chiptune-Musik ergeben können. So haben Fans beispielsweise Michael Jacksons Pop-Klassiker "Beat It" nachgebaut, genauso wie den "Imperial March" aus Star Wars.
Somit präsentiert sich Isle of Tune als liebevoller Musikbaukasten, der zwar spielerisch arg limitiert ist, mit seiner innovativen Idee und charmanten Retro-Optik jedoch die Herzen von Musikliebhabern in Windeseile gewinnt. Wann wird es den ersten "Isle of Tune"-Wettbewerb bei einer Demo-Party geben? Wir sind gespannt!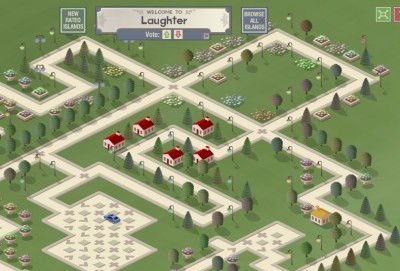 Isle of Tune, das Sim City "Light" mit einer extra Portion Musik!