Metamaterial
In der aktuellen Situation der Demoszene, die allübergreifend geprägt von akuter Release-Armut und dem Versteckspiel im eigenen Programmier-Dungeon ist, findet man dank dem
Digital Tools
Blog doch ein klein wenig Erlösung. Dort entdeckt man den Hinweis auf das Animationsvideo
Metamaterial
des Künstlers Dima Grubin. Seine pulsierenden Szenen erinnern frappierend an die Werke von Gruppen wie MFX, Kewlers oder auch die 4k Intro Nucleophile. So demoesk die visuelle Gestaltung hier auch ist, bei der Sounduntermalung ging Grubin jedoch in ein gänzlich andere Richtung. Mit dem Song Closer der Kings of Leon wirft er hier einen ungewöhnlichen Track in den pulsierenden Effektbrei. Doch kristallisiert sich schon nach wenigen Augenblicken heraus, dass er damit den Zahn der Zeit getroffen hat, denn die Atmosphäre stimmt.
Solltet ihr also wie wir begierig, aber ohne Aussicht auf Besserung, auf neues Demofutter warten, bekommt ihr mit dem
Metamaterial
-Video durchaus eine kleine Stärkung für die kommenden Wochen.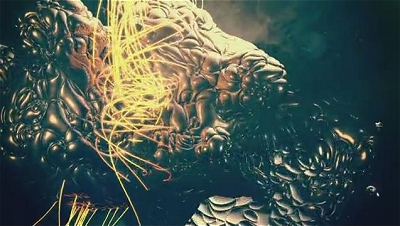 Visueller Wabbelspaß mit Musik der Kings of Leon: Metamaterial.