Krause - Follow Me
Die niederländische Elektropop-Künstlerin
Krause
sorgt in Szenekreise mit seinem Debütalbum "
No Guts, No Glory
" (erhältlich über iTunes) gerade für Aufsehen. Vor allem die Hitsingle "Follow Me" hat es uns angetan, und zwar nicht nur aufgrund der melodischen Synthie-Klänge, sondern insbesondere aufgrund der visuellen Inszenierung des dazugehörigen
Musikvideos
. Gänzlich aus Partikeln wird dort Sängerin Susanne Clermonts zusammengesetzt, mit tollen Kameraschwenks anspruchsvoll in Szene gesetzt und mit jeder Menge Staubpartikel und Glow gestylt. Das sieht zum Teil ein wenig aus wie die Dot-Landschaften in frühen Amiga-Demos, weckt aber auch Erinnerungen an die Kult-Tanzdemo
State of the Art
. Auch lassen sich Parallelen zu
The Evolution of Vision
von Andromeda Software Development ziehen, genauso wie zu den Partikelmeisterwerken von Fairlight und CNCD (
Blunderbuss
,
Agenda Circling Forth
,
Ceasefire
). Es ist ein bezaubernder Dot-Rausch, den uns Krause hier zeigt und welcher der ansprechenden Musik zusätzliche Würze verleiht.
Ein überaus interessantes
Making of
des Videos zu Follow Me findet sich im Übrigen auf der Webseite der Künstlerin.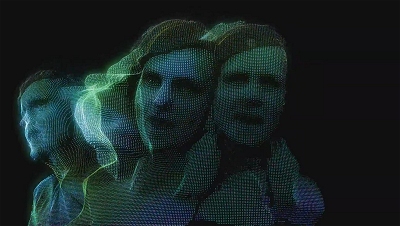 Visuelle Dot-Zauberei und bezaubernde Elektroklänge stecken
in Follow Me von Krause.