Metropolis Trailer
Es dauert gerade einmal 1.42 Minuten, aber das, was man in dieser Zeit zu sehen bekommt, hat sich für Fans der Demoszene gewaschen. Fast könnte man meinen, hinter dem Teaser zu Trust in the M_machine, dem Debütalbum der Technoband Metropolis, stecken Gruppe wie Cocoon, Portal Process oder Excess. Seltsame Maschinen, ein rasanter Flug durch eine Wolkenkratzerstadt bei Nacht und bizarre, goldfarbene Konstruktionen bestimmen das Bild - und werden von gängigen, aber gut gemachten Elektrosounds perfekt untermalt. Das macht Appetit auf das demnächst erscheinende Album der US-Formation rund um Aaron Greene. Aber eigentlich wollen wir doch nur mehr von diesen Videos sehen. Denn dafür ist diese Art von Musik besser geschaffen, als in irgendwelchen Clubs vor sich hinzudröhnen.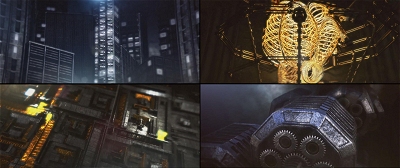 Sieht aus wie Demos von Portal Process, Excess oder
Cocoon, ist aber nur ein gut gemachtes Musikvideo:
Trust in the M_machine Teaser von Metropolis.