Solar Cell
Ausgedurstet sind wir, unser Geduldsvorrat zur Schonung der Nerven ist längst aufgebraucht. Nichts, aber auch gar nichts interessantes ist in den letzten Wochen in der PC-Demoszene passiert, geschweige denn veröffentlicht worden. Mal abgesehen von der brillanten CPC-Demo Batman Forever (wir berichteten), sofern man diese per Emulator startet. Nun aber sehen wir endlich Licht am Ende des Tunnels. Die
The Gathering 2011
startet morgen, die
Eastergarden
ebenfalls, und am Freitag öffnet endlich die langersehnte
Revision 2011
ihre Pforten.
Doch zuvor beglückt uns die Gruppe The Bad Sectors mit einer neuen Demo. Einer Siegerdemo noch dazu. Als Sieger auf der PixelJam 2011 gingen die Jungs mit ihrer Demo
Solar Cell
hervor, und wecken damit unseren Appetit auf mehr Echtzeitkunst. Und das, obwohl ihr kleines Werk nicht unbedingt zu den spektakulären Vertretern seiner Zunft zählt. So weiß die Demo zwar mit netten Licht- und Schattenspielen zu gefallen, wiederholt jedoch ständig die Texturen und bietet nur gewohnte Standardkost. Also mal einen Würfel, einen Tunnel und monotone, einfache Musik. Aber immerhin ist der Anfang gemacht für eine, garantiert aufregende Woche.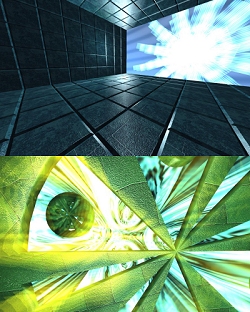 Nicht spektakulär, aber endlich wieder eine richtige
PC-Demo: Solar Cell von The Bad Sectors.