Im Test: Child of Eden
Oft haben wir bereits über Child of Eden berichtet, das neue Spiel von Rez-Erfinder Tetsuya Mizuguchi. Schon lange haben wir kein Spiel mehr gesehen, das sich so deutlich von Szenedemos inspiriert zeigte. Und der
Testbericht
bei unseren Kollegen von 4Players.de offenbahrt, dass Child of Eden in der Tat einen neuen Rekord in Sachen Würfel- und Glow-Effekte pro Bildschirm-Pixel aufstellt.
"...Viele psychedelische Arcade-Shooter haben sich in den vergangenen elf Jahren von Rez inspirieren lassen, doch das Design des Originals ist auch im zweiten Teil noch eine Klasse für sich. Anspannung und Euphorie, Licht und Schatten, Laute und leise Töne wechseln sich hier derart schnell ab, das man in einen regelrechten Rausch gerät. Obwohl die organischeren Wesen und Pop-Einflüsse ein wenig massentauglicher wirken als im technoideren Vorgänger, passt das Ergebnis perfekt zum Gesamtkunstwerk..."
Hier geht's zum
vollständigen Bericht
.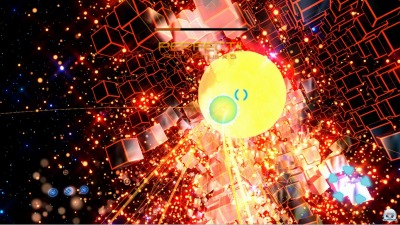 Child of Eden ist ein spielbarer Farbrausch in atemberaubender
Kulisse! Mehr dazu im Testbericht bei 4Players.de.