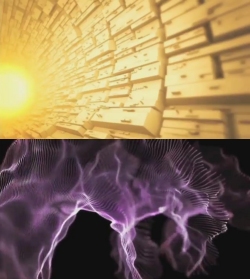 Zalza - Hang with me

Zalza ist ein wahrer Soundmagier, wenn es um klassische Chiptune-Sounds geht. Mit feinem Gespür für Melodie und Komposition erwärmt er ein ums andere Mal unsere Herzen, fördert Klangfolgen zu Tage, die wir so leicht nicht mehr vergessen können. Exakt in diese Kategorie fällt auch sein neuestes Stück, ein Chiptune-Remix von Robyns Hang with me. Auch hier können wir gar nicht damit aufhören, die Repeat-Taste zu drücken um immer wieder aufs Neue in diesen berauschenden, melodiösen Soundpool einzutauchen.

Doch kommen neben den Ohren, auch die Augen nicht zu kurz. Das passende Musikvideo hat Zalza gleich mitgebracht. Mit ein paar hübschen Effekten, wie einem Tunnel und Sinewaves, bietet er ein paar nette Szenen, die zwar dem Klangerlebnis nicht das Wasser reichen können, aber dennoch schön anzuschauen sind.