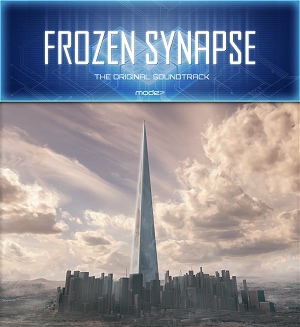 Frozen Synapse - Soundtrack

Das Taktik-Spiel Frozen Synapse zählt zu den absoluten Geheimtipps aus der Indie-Games-Szene. Reihenweise ist das Multiplayer-Spektakel bereits mit Preisen überschüttet worden, hat seinen Siegeszug um die Welt trotz spartanischer Grafik längst angetreten. Neben dem brillanten Spielprinzip kristallisierte sich vor allem der Soundtrack als außergewöhnliches Highlight heraus: Elektronische Musik wie aus dem Bilderbuch! Allerdings sprechen wir hier nicht von angestaubten Synthesizer-Klängen, sondern von einer topmodernen Inszenierung mit glasklaren Sounds, krassen Dubstep-Einlagen, orchestralen Passagen und Chorgesang. Dieses bunte Potpurri ist angereichert mit wunderschönen Melodien, die unter die Haut gehen.

Hinter der Musik zu Frozen Synpase steckt Mode 7 Games-Gründer Paul Taylor, der unter dem Künstlernamen Nervous Testpilot seit vielen Jahren Musik macht und auch schon den ein oder anderen Track bei diversen Dance Record Labels unterbrachte. Taylor steuert mit seiner Spielemusik im Fahrwasser großer Produktionen wie dem Soundtrack zum Film Tron: Legacy des überirdischen Künstlerteams Daft Punk, muss sich dahinter aber keineswegs verstecken. Mit seinen orchestralen Einlagen, die sich immer wieder kunstvoll zwischen die elektronischen Klänge mischen, weckt der Nervous Testpilot aber auch Assoziationen an die Demo-Soundtracks von Olof "Blaizer" Gustafsson von der Gruppe The Black Lotus (Silkcut, Starstruck), während die Dubstep-Einlagen auch gut zum Musiker Gloom und seinen Stücken für Demos wie Crank oder Easter Guardians passen. Für gerade einmal 9,99 Euro erhält man ein extra feines Stück Klangkunst, welches in der elektronischen Musikkultur ganz weit oben eingereiht werden muss.

Unsere Favoriten: Concentrate, Switch, Triumph

Passt zu Demos von: The Black Lotus, Excess

Preis: 9,99 Euro

Wir haben den Soundtrack zu Frozen Synapse zu unserem Artikel "Spielesoundtracks für Liebhaber von Demomusik" hinzugefügt. Dort findet ihr Albumtipps mit Musik aus Computerspielen, welche vom Stil her den Klängen aus Szenedemos ähneln.