Startschuss zu den Demodays
Vom 26. bis 28.08. finden in Olten/Schweiz die
Demodays 2011
statt. Oder anders gesagt: Zum bereits 20. Mal wird die Buenzli-Kuh aus ihrem Stall gelassen. Denn obwohl der Schauplatz ein anderer ist und es einige konzeptionelle Änderungen gegeben hat, handelt es sich nach wir vor um eine waschechte Buenzli Demo-Party. Betrachtet man die Flut der News-Meldungen, welche das Orga-Team in den letzten Wochen hinausgeschossen hat, ist unübersehbar, mit wieviel Herzblut man bei der Sache ist, wie wichtig ihnen ihre neues Event ist. Wirklich schön! Wir freuen uns schon auf die neuen Sachen, die dort veröffentlicht werden, da bisher eigentlich auf jeder Buenzli einige echte Schmankerl gezeigt wurden. Außerdem hoffen wir natürlich, dass die Veranstaltung auch in der eidgenössischen Computerkunstszene die Aufmerksamkeit erhält, die ihr gebührt. Schließlich gehört es zum neuen Konzept, auch andere Computerinteressierte außerhalb der reinen Demoszene anzulocken.
Und wer immer noch nicht genug über die Demodays 2011 weiß, der sollte nicht nur die
offizielle Webseite
besuchen, sondern sich auch die spaßige Einladungsdemo
My Buenzli - The Demodays 2011 Invitation
auf die Festplatte laden, die mit einem herrlichen Musikstück und perfekter Karaoke-Stimmung zu überzeugen weiß.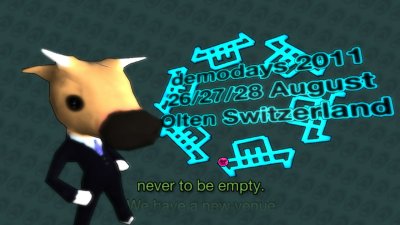 Mach's mit Muuuh: My Buenzli - The Demodays 2011 Invitation.