BloodRayne Betrayal Soundtrack
BloodRayne: Betrayal
, Oldschool-Metzler mit herausragender 2D-Optik, im
4Players-Hardcore-Check
mit magerene 59 Prozentpunkten abgespeist. Das Animationssystem und die unfassbar fies gesetzten Checkpoints tragen die Bürde der Schuld auf ihren Schultern, schreibt Tester Paul Kautz. Ist uns allerdings völlig wurscht! Wir brauchen gerade kein Gamepad, sondern schlicht und ergreifend nur einen MP3-Player. Der Soundtrack des Vampir-Geschnetzels ist der herrlichen Grafik nämlich ebenbürtig. Genau dieser läuft, als wir diese Zeilen tippen, gerade im Hintergrund. Seit kurzem gibt es ihn für lau
zum Downloaden
(oder für eine Gebühr nach Wahl).
Inspiriert von den Songs der Rockband Nightwish, sowie den faszinierenden Klängen aus Castlevania: Symphony of Night, wollten die Entwickler von WayForward exakt diesen Musikstil für ihr blutiges Zeichentrickspektakel haben. Jake Kaufman, in der Demoszene besser unter dem Pseudonym Virt für Soundtracks wie in der Rebels-Demo
Twenty4
bekannt, trat an die Jungs und Mädels heran und behauptete im Scherz, er könne ihnen noch bessere Musik für das Spiel komponieren. Gesagt, getan. Herausgekommen sind sage und schreibe 30 Stücke, die nicht nur wie die Vampirzähne in die Halsschlagader passen, sondern sich von den großen Vorbildern nicht zu verstecken brauchen und eine gehörige Portion Nippon'scher Klangkunst atmen.
Virt schickt den Hörer in ein Wechselbad der Gefühle. Mal lässt er schwermütig die Streicher die Saiten ihres Instruments liebkosen, umschlingt unser Herz mit gefühlvollem Piano-Spiel, reißt uns aber wieder heraus aus unseren melancholischen Träumen mit heftigen E-Gitarren-Stakkato und Drumsticks-Wirbelei. Es passt zu den Szenen des Spiels. Wenn die Heldin in BloodRayne: Betrayal sich gerade wieder durch Horden untoten Fleisches kämpft, hämmert schnelles Schwermetall aus den Lautsprechern. Zwischendurch geht es auf atmosphärisch dicht verpackten Schmusekurs, perfekt intoniert von einem Meister der Klangwelt, der seinen, eigentlich nicht ernst gemeinten Worten, eindeutig ein Denkmal gesetzt hat. Außerdem liegen manche Stücke noch in kultverdächtigen NES-Versionen vor. Chiptune-Herz, was willst du mehr? Prädikat "Absolut Virt-voll"!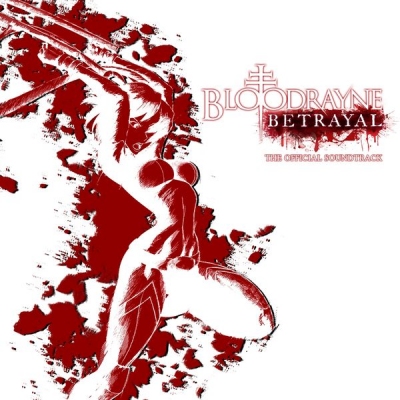 ubi029: Virt - BloodRayne: Betrayal Soundtrack

1. Title (1:29)
2. Dusk Falls (3:59)
3. The Crabpuncher (2:07)
4. Stage Complete (0:57)
5. Sanguine Nightmare (4:00)
6. Raven (3:01)
7. Vampires' Ball (3:15)
8. Castle Rising (1:31)
9. The Crimson Demon (1:55)
10. Betrayal (4:14)
11. Kagan (3:04)
12. Peaceful Moon (1:56)
13. Poisoned Halls (4:06)
14. Zetagama (3:24)
15. Escape (1:09)
16. Cursed Dawn (End Credits) (3:04)
17. Bonus Gallery (4:19)
18. Dusk Falls (NES) (3:12)
19. The Crabpuncher (NES) (2:13)
20. Sanguine Nightmare (NES) (3:48)
21. Vampires' Ball (NES) (2:52)
22. Castle Rising (NES) (0:12)
23.The Crimson Demon (NES) (1:57)
24. Betrayal (NES) (3:45)
25. Kagan (NES) (3:04)
26. Peaceful Moon (NES) (2:03)
27. Poisoned Halls (NES) (3:45)
28. Zetagama (NES) (2:42)
29. Escape (NES) (1:32)
30. Stage Complete (NES) (0:45)

"Cursed Dawn" (End Credits) performed by Jessie Seely
Music and Lyrics by Jake Kaufman
Recorded by Christopher Wonzer at Eargasm Studios / Atlantis Group Recording
© All rights reserved.