The Polynomial: Space of the Music
Achtung, dieses Spiel könnte glatt als neues VJ-Tool durchgehen!
The Polynomial - Space Of The Music
ist wieder einmal einer dieser kreativen Vertreter aus der Indie-Games-Szene, die einfach nur Lust auf mehr machen und den eigenen Basteldrang fördern. Konzipiert als simples Shoot 'em Up der alten Schule in 3D ist The Polynomial - Space Of The Music eigentlich nichts Besonderes, wären da nicht zwei Alleinstellungsmerkmale. Zum Einen begeistert das Spiel mit seinen demoesken Visuals. Die Fraktalgrafik wird passend zur Musik generiert und wirft dem Spieler einen wahren Rausch an Farben und mathematischen Gestaltungsformen entgegen. Der zweite Punkt betrifft den mächtigen Editor, mit dessen Hilfe sich neue Grafikelemente erstellen lassen. Grenzen gibt es dabei keine. Einzig und allein der eigene Entdeckerdrang, die kreative Ader und die Herumspielerei mit den Parametern stehen dem Resultat im Weg - oder auch nicht. Dass dabei eigene Musikstücke eingebunden werden können, versteht sich von selbst.
Alexey Lavrov ist hier ein ganz besonderes Schmuckstück gelungen, dessen visuelle Eleganz den Werken der Demogruppe
Traction
in Nichts nachsteht. Von der kreativen Ader muss man schon fast den Vergleich mit
Andromeda Software Development
ziehen, so vielfältig und abwechslungsreich sind die visuelle Darstellungsmöglichkeiten.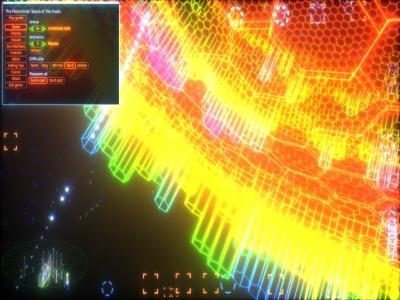 Da sage noch einer, Mathematik sei langweilig! Nicht,
wenn Mathematische Formeln solch herrliche Visuals generieren,
wie in The Polynomial - Space Of The Music.