Plug-In - Hijack
Der einzig wahre Moby ist zurück. Endlich! Der, welcher Musik für Kultdemos wie
Arte!
von Sanity oder
Substance
von Quartex komponiert hat. Der für den guten Klang in Spielen wie
Gobliiins
,
Fascination
,
Fury of the Furries
,
Nightmare Creatures
oder
The Saga of Ryzom
sorgte. Genau dieser Moby, der sich inzwischen
El Mobo
nennt und erst kürzlich mit der
Neuinterpretation von Sea of Love
für den hervorragenden Sampler
Immortal 4
den besten Track der CD ablieferte, schlägt nun mit seiner Band Plug-In in Form eines neuen Albums zurück:
Hijack
.
Hijack
gibt es in zwei Versionen. Zum einen in der superschicken, dreiteiligen Digipack-Edition mit tollem Cover, oder natürlich als Download. Die neun, darauf enthaltenen Tracks bieten brachialen instrumental Metal mit jaulenden Gitarren, perfektem Bass-Spiel und wirklich tollen Melodien. Man kennt das bereits aus dem Debüt-Album von Plug-In namens #0.9, welches allerdings schon 1999 erschien. Zahlreiche Gaststars hat sich El Mobo für dieses edle Stück Klangkunst an Bord geholt. Am bekanntesten dürfte dabei Ron Thal von Guns 'n' Roses sein, den er vor ein paar Jahren auf seiner Frankreich-Tour als Bassist begleiten durfte. Mit dabei sind auch Patrick Rondat, der Gitarrist von Jean-Michel Jarre, Sylvain Coudret von Soilwork, Mattias Eklundh von Freak Kitchen und noch einige andere.
Hijack
kostet 11,99 Euro in der Digipack-Edition und 6,99 Euro als Digital Download.
P.S.: Wie es sich gehört, führen alle Spiele-Links in dieser Meldung auf... Mobygames!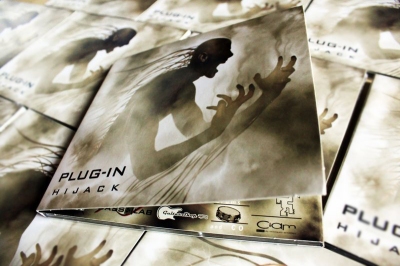 Eine Demoszene-Legende spielt mit seiner Band Plug-In
instrumental Metal vom Feinsten auf Hijack.