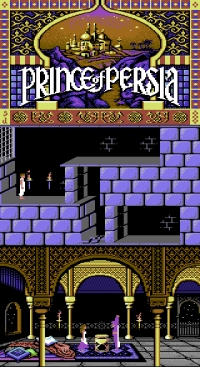 Prince of Persia für C64

Es gibt Menschen, die haben bis heute geglaubt, dass das legendäre "Run and Fight"-Game Prince of Persia bereits für den Commodore 64 existiert. Auch wir zählten dazu, was uns, während des Schreibens dieser Zeilen, die Schamesröte ins Gesicht treibt. Jordan Mechners brillantes Animationsspektakel war tatsächlich den anderen Homecomputern der damaligen Zeit vorbehalten (Amstrad CPC, Apple II, Amiga, Atari ST, DOSe). Bis jetzt! Denn Szenegröße Mr. Sid, der auch heute noch immer wieder kleinere und größere Demos für den alten Brotkosten hervorzaubert, hat das Spiel in mühevoller Kleinarbeit für den beliebten Retro-Rechner umgesetzt.

Prince of Persia, in der Version für den C64, glänzt mit all den Vorzügen, die auch die Originalversion auszeichnen. Kniffliges, forderndes Gameplay mit allerlei Sprungpassagen, Schwertkämpfen gegen die Schergen des Sultans, fiesen Fallen - und das alles unter Zeitdruck. Die Grafik ist brillant, steht der Volage in nichts nach, was auch für die atemberaubenden Animationen gilt, die Mechner seinerseits per Videokamera aufgezeichnet und dann als Computerbewegungen umgesetzt hat.

Prince of Persia zählt zu den legendären Titeln in der Geschichte der Computerspiele. Diesen Status hat die C64-Konvertierung bereits innerhalb weniger Tage erreicht. Begeisterung hört man nicht nur aus der Ecke der Demoszene, die genau weiß, welche technische Schwerstarbeit in dieser Umsetzung steckt, sondern auch von allen Liebhabern des 8-bit Kultcomputers, und denen, die es noch werden wollen. Dank dem Emulator VICE lässt sich die C64-Version von Prince of Persia problemlos unter Windows, Mac OS X und vielen anderen Betriebssystemen starten. Einfach das heruntergeladene Disk Image per Autostart laden, dann nimmt der Spaß seinen Lauf. Zur Spielsteuerung wird ein gutes Gamepad, noch besser ein Joystick, aber dringend empfohlen.