We're fucking 3LN!
m0d ist Vollblutmusiker, ein Wahnsinniger in Sachen Elektro-Pop, ein kreatives Genie. Er lebt die Demoszene, füttert uns nicht nur mit
Live-Videos von Demo-Partys
, sondern auch immer wieder mit faszinierenden Klängen. Nun hat er sowohl musikalisch, als auch vom Konzept her sein Meisterwerk vorgelegt. Nämlich feinste elektronische Popmusik mit dem Titel
We're fucking 3LN!
(
YouTube
/
MP4-Video
/
MP3-Download
).
Dieser Song basiert gänzlich auf Nicknames die nur aus drei Buchstaben bestehen. m0d selbst fällt darunter, aber auch andere bekannte Szener wie Ne7, Rez, Las, Alk und viele andere. Eingebettet in ohrwurmverdächtiger Musik, die sofort zum Mittanzen einlädt und so schnell nicht wieder aus dem Gehörgang zu vertreiben ist, bläst er uns damit den Verstand weg. Wir wippen mit, grinsen dabei schelmisch, und freuen uns sogar über das mitgelieferte Video, welches nur aus Textzeilen und ASCII-Zeichen besteht, aber passt wie der Nachhall zum Gesang. Wee luv you, m0d! Thx and bye, Bob!
"We're fucking 3LN, we come from IRC!
We're brothers of 3 letter nicks now, that's right I said three!"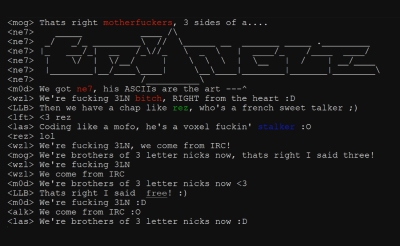 Cooles Konzept, fantastischer Elektronik-Pop: We'r fucking 3LN!