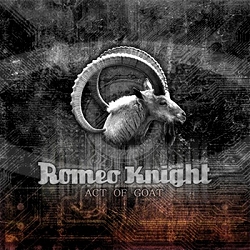 Romeo Knight: Act of Goat

Romeo Knight? Das ist doch der alte Hase - Verzeihung - die Musikerlegende, die schon in den 1980er Jahren sagenhafte Soundtracks für Szenedemos komponiert hat. So leckere Sachen wie "Cream of the Earth", die Musik aus der Cebit '90 Demo, oder "I'm gonna be infectious", was beim Kultwerk Wicked Sensation verwendet wurde. Nun, bekanntlich hat sich der begnadete Saitenzupfer anno 2007 in der Demoszene zurückgemeldet. Mit einer grandiosen Mischung aus Gitarrenspiel und atmosphärischen Synthie-Sounds: Dem Soundtrack zur PC-Demo Fairytale von Traction und Brainstorm. Seitdem hat Eike Steffen, wie er mit bürgerlichem Namen heißt, immer wieder einmal von sich hören lassen, hat bei Musik Disks wie Annual 2011 oder The Sound of SceneSat Vol. 2 ebenso mitgewirkt, wie bei Musikwettbewerben auf Demo-Partys und weiteren PC-Demos (Lucifer).

All diese Stücke, sowie ein paar weitere Schmankerl, bietet der Meister an der Gitarre und dem Synthesizer nun auf seinem neuen Album Act of Goat zum Download an. 14 Tracks umfasst das gute Stück, das es als Digital Download bei BandCamp zu beziehen gibt. Es sind seine persönlichen Favoriten aus den letzten Jahren, die dort untergebracht wurden, und die mit über einer Stunde Spielzeit gar prächtig unterhalten.