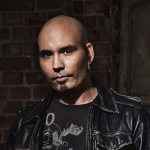 Rochard Soundtrack von Captain

Mit dem Song Space Debris gewann Markus "Captain" Kaarlonen einst den Musikwettbewerb auf der Anarchy Easter Party 1991. Ein Stück, das bis heute Kultstatus genießt und zu den besten Synthpop-Tracks in der Geschichte der Demoszene zählt. Die Musik zum 3D-Demo-Monstrum Lapsuus auf dem Amiga war dann sein nächster Meilenstein. Allerdings satte zehn Jahre nach Space Debris und in eine andere musikalische Richtung gehend, nämlich orchestral. Weitere zehn Jahre später ist Captain zurück auf der großen Musikbühne. Für Rochard (Trailer), ein cooles Action-Jump 'n' Run mit raffinierten Gravitationsspielchen, steuerte er den Soundtrack bei. Dieses Mal hat er eine Mischung aus beiden Soundkategorien eingschlagen, nämlich pompöse Orchestersounds gelegentlich mit Synthpop-Rhythmen gemischt. Das Ergebnis klingt gut. Eingänge Melodien schmeicheln sich ins Ohr, manchmal fühlt man sich an die ersten orchestralen Versuche eines Chris Hülsbecks (Tower of Babel & Warzone - beides von seinem Debüt-Album Shades) erinnert. Sogar ein gelungener Remix seines zeitlosen Klassikers Space Debris ist auf dem Soundtrack zum Spiel zu finden. Der offizielle Soundtrack zu Rochard ist für 4,95 Euro als digitaler Download erhältlich.

Wer noch mehr über Markus "Captain" Kaarlonen erfahren möchte, darf auf der Website der finnischen Rockband Poets of the Fall vorbeischauen, für die er als Produzent und Keyboarder tätig ist. Vor allem unter Videospielern sind die Jungs keine Unbekannten mehr. Eine ihrer ersten Singles, Late Goodbye, erschien ursprünglich auf dem Soundtrack des Klassikers Max Payne 2. Seitdem haben sie vier Alben veröffentlicht und absolvierten so manches Gastspiel in bekannten finnischen Videospielen, unter anderem auch bei Alan Wake.


Rochard Game-Trailer