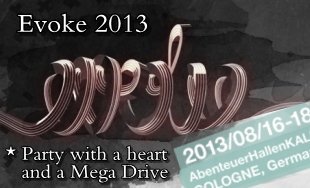 Evoke 2013 - Party with a heart and a Mega Drive

Man muss an dieser Stelle einmal die Zahlen für sich sprechen lassen. Auf der Kölner Demo-Party Evoke 2013 gab es acht Releases beim Demo-Wettbewerb. Alle davon stellen wir an dieser Stelle ausführlicher vor. Warum das so ist, wo wir doch normalerweise selektieren und uns nur auf die wichtigsten Vertreter beschränken? Weil es hier einfach acht gute, bis schweinegeile Demos zu sehen gab! Doch war die Qualität nicht nur in dieser Kategorie so hoch. Auch bei den Intros, den Wild Demos, den Grafik- und Musikwettbewerben wurde unser unersättlicher Hunger nach kreativer Computerkunst gestillt, was die 2013er Ausgabe der Evoke zu einer der stärksten Veranstaltungen aller Zeiten macht. Wobei ein Werk dann doch noch über allem anderen, egal ob von STILL oder von JCO, schwebt. Eine Oldskool-Demo für das Mega Drive, die aufgrund ihrer Champions-League-reifen Inszenierung sogar schon Diskussionen ausgelöst hat, ob denn nie wieder Demos für die betagte Sega-Konsole geschrieben werden würden. Denn diese zu toppen, scheint ein aussichtsloses Unterfangen zu sein. Viel Spaß beim Anschauen!



---------------------------------------------------------------------------------------------------------------------------------------------------------
Dieser Artikel ist in kompletter Länge nur auf 4Sceners.de zu finden.