Buch: Amiga-Spiele & Demos
Von Michael Krosta, 4Players.de:
Lust auf einen melancholischen Trip in die Vergangenheit der Computerspiele? Dann möchte ich euch das Buch Commodore 64: A Visual Commpendium von Sam Dyer, Grafikdesigner und Inhaber von Bitmap Books, ans Herz legen.
Auf über 200 Seiten werden dort die wichtigsten und prominentesten Spiele des Brotkastens mit verpixelten Original-Grafiken und / oder Artworks vorgestellt, darunter z.B.
The Last Ninja
, Wizball oder
Maniac Mansion
. Sogar deutsche Produktionen wie
The Great Giana Sisters
oder
Turrican
wurden aufgenommen. Garniert wird das alles mit kurzen Zitaten von (Original-)Entwicklern, Künstlern oder Journalisten, die in Erinnerungen schwelgen. Zwar kommen manche Titel etwas zu kurz bzw. müssen sich den Platz mit anderen Spielen auf der Doppelseite teilen, doch weckt das Blättern und Schmöckern auch beim Leser viele Gedanken an die gute, alte Zeit.
Das Projekt wurde mit der Hilfe von Kickstarter finanziert und ist laut Pressemitteilung exklusiv beim britischen Händler Funstock.co.uk zum Preis von 24,99 Pfund
erhältlich
, der auch nach Deutschland liefert. Auch bei Amazon.de wird das Buch für knapp 30 Euro gelistet, ist aber derzeit nicht erhältlich.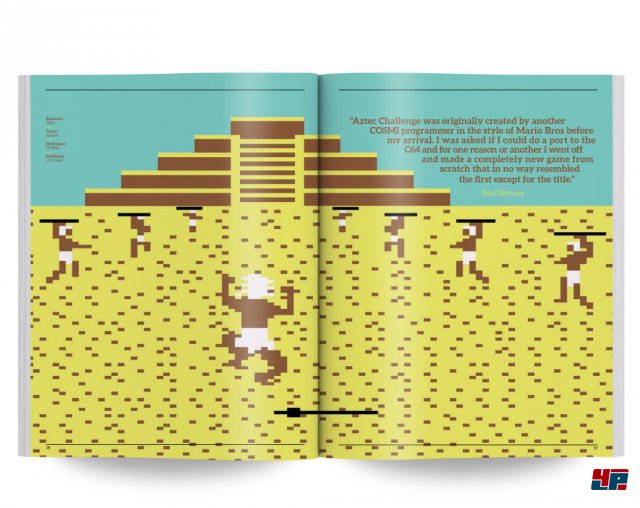 Mittlerweile hat Dyer übrigens eine weitere Kickstarter-Kampagne ins Leben gerufen, die ebenfalls viele Oldschool-Zocker interessieren dürfte, die neben dem C-64 auch mit dem Amiga groß geworden sind. Wer also den Nachfolger Commodore Amiga: A Visual Commpendium unterstützen will, wird
hier
fündig. Neben den besten Spielen für den Commodore Amiga, wird Dyer auch der Demoszene und ihren besten Werken für die "Freundin" ein Kapitel widmen.