EdenShard - Revision OST
Kenn ihr noch
Alexander Brandon
? Als "Siren" hat er Mitte der 1990er Jahre in der Demo- und Trackerszene für Aufsehen gesorgt, was ihm ein paar Jahre später auch einen Job als Spielemusiker einbrachte. Auf Alex' Konto gehen unter anderem die Scores zum ersten Unreal, Unreal Tournament und auch dem Meilenstein Deus Ex, dessen Musik er zusammen mit Michiel van den Bos schuf. Aufgrund der Veröffentlichung der aufwändigen Revision-Mod für Deus Ex rücken seine Kompositionen nun wieder in den Mittelpunkt.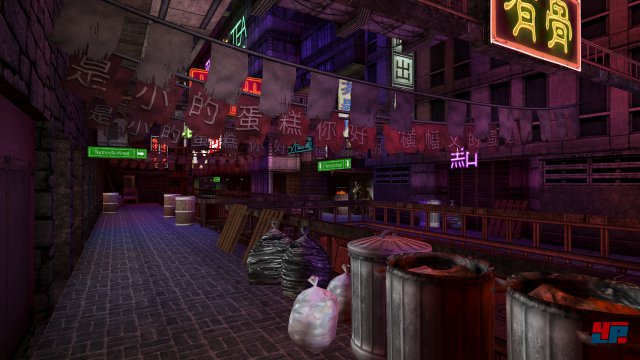 Schnappschuss aus der aufwändigen Fan-Modifikation.
Eine internationale Gruppe an Fans hat unter dem Namen Caustic Creative eine Modifikation des ursprünglichen
Deus Ex
veröffentlicht, die das Spiel grafisch, akustisch und auch spielerisch erweitert. Die Version ist seit gestern unter dem Namen Deus Ex: Revision (
offizielle Webseite
) auf
Steam
erhältlich. Besitzer der Steam-Ausgabe "Deus Ex: Game of the Year Edition" erhalten sie als separates Spiel kostenlos.
Die Revision-Mod enthält neu gestaltete Schauplätze mit hochauflösenden Texturen, Modellen und Unterstützung von Direct3D 9. Einige Elemente waren bereits Bestandteile früherer Modifikationen. Zusätzliche Spielvarianten sind zum Start eines neuen Spiels wählbar und verändern z.B. die Funktionsweise von Augmentationen und Waffen und passen Verhalten sowie Eigenschaften der Gegner für eine größere Herausforderung an.
Auch einen neuen Soundtrack bekam Deus Ex mit der Revision-Ausgabe verpasst: Das Duo EdenShard (John French und Logan Felber) schrieb Musik basierend auf den Melodien des Originals. Der komplette Soundtrack ist auf
Bandcamp
hörbar und kann von dort auch kostenlos heruntergeladen werden.
Autoren: Benjamin Schmädig (4Players.de), Jürgen Beck